Finnish Kropser (Baked Pancake)
PaulaG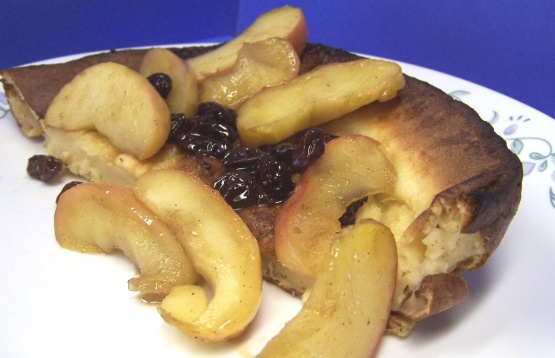 DH was thrilled when I came up with this recipe (it was a favorite of his as a child!)

I've only recently discovered this recipe and so far... I'm a fan! I love the versatility and how easy it is to make. Makes a great last minute choice as you can top it with whatever you have in the cupboard... jam, fresh fruit, powdered sugar, honey, syrup, peanut butter, nutella, etc. Be creative! When I lived in Germany my friends introduced me to crepes with nutella, banana slices, bailey's, and ice cream. HEAVEN! I bet those things would be quite lovely on this as well! Makes for a fun and creative brunch. :) One more thing- for high altitude, lower the heat to 400 and watch it close around 25 minutes. Mine is usually done around then. It's easier to cut slices if you don't let the bottom brown too much.
Preheat oven to 450 degrees. In a medium bowl, stir together sugar, flour and salt.
Add eggs and milk. Beat with electric mixer (this works well in Kitchen Aid) until well blended.
Melt butter in jelly roll pan (in oven).
Pour batter in pan and bake for 30 minutes. Pancake will puff up and then flatten as it cools.
Serve with syrup, jam, honey or fresh fruit.