Finnish Jaakko's Dream Torte (Jaakon Unelmakaaretorttu) Cake Rol
Wobin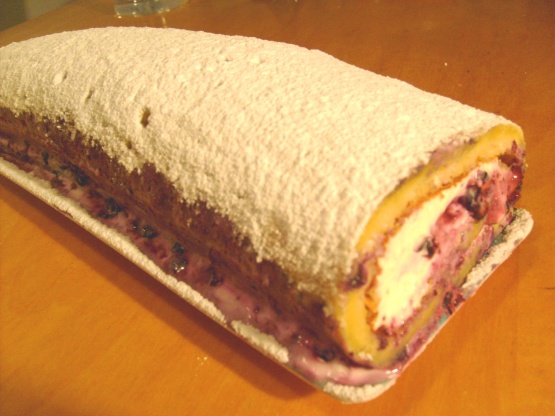 Jaakko Kolmonen is a chef on Finnish television. His rolled cake is delicate and simple to make. Use whatever fresh fruit or berries in season. Finns often use a finely textured, fresh milk cheese called rahka in combination with whipped cream in cake fillings to stabilize the cream. Ricotta makes an acceptable substitute.

Top Review by Wobin
Very easy to make and tasted wonderful. I could not find ricotta cheese in the store so I used Quark instead. I also used vanilla sugar instead of vanilla. The pan I used was 16X18 (only one I have) so I doubled the recipe for batter and filling. The filling dalloped over fresh berries would make a wonderful dessert by itself. The final product of the cake roll was fantastic. The cake very dense and not as spoungy as I had thought it would be. Served this with coffee to some friends.
Line a 15 x 10-inch jelly roll pan with parchment or waxed paper and butter bottom and sides of the pan. Dust with flour. Preheat oven to 375°F.
In a large bowl of an electric mixer, beat the eggs until foamy. Add the sugar GRADUALLY and continue beating until light and lemon colored, about 5 minutes at high speed.
SIFT the flour and baking powder together over the mixture and carefully fold in using a rubber spatula.
Turn mixture into the prepared pan and spread evenly to the edges and corners. Bake for 8 to 10 minutes until the top springs back when touched.
While cake is baking tear off a doubled length of paper toweling, folding it to about 18 inches in length. Generously dust the toweling with powdered sugar.
When cake is baked, loosen the edges and invert immediately onto the sugar dusted towel. Peel off the parchment or waxed paper and roll up the cake, starting at a narrow end, rolling the towel into the cake. Allow to cool completely.
To prepare the filling, combine the ricotta and whipping cream in a bowl and beat at high speed until rather stiffly whipped. Blend in the powdered sugar and vanilla.
Carefully unroll the cake. Spread with the creamy mixture and berries. Roll up again. Place on serving plate and chill, covered, until ready to serve. 6 to 8 servings.
The Great Scandinavian Baking Book B. Ojakangas.