Finnish Cranberry Whip (Vatkattu Marjapuuro)
aevil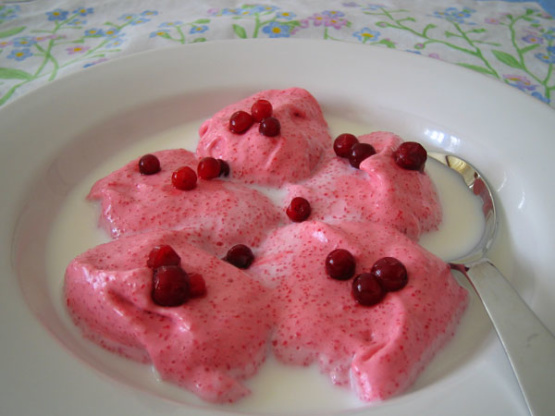 I found dessert this especially for the World Tour. It looks ridiculously delicious!
As a Finn, I can guarantee that this is the real deal! The way its been made by all our Grannies there. It's always made with tart berries, typically also with red-, white- and black currants.
Heat cranberries in 1 1/2 cups water to boiling; reduce heat. Simmer uncovered until berries pop, about 8 minutes.
Press cranberries through sieve to remove skins. return juice to saucepan. Add sugar, 1 cup water and the salt; heat to boiling.
Add farina gradually, stirring constantly. Cook, stirring occasionally, until thickened, 3 to 5 minutes.
Pour into small mixer bowl. Beat on high speed until pudding becomes fluffy and light pink, 3 to 5 minutes.