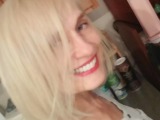 Based on a recipe from Karen Berg Douglas' book, Scandinavian Sweet Treats.
Directions
In large bowl, mix together flour, baking soda, cinnamon and cardamon.
In another bowl, beat egg until frothy.
Beat sugar and butter into egg. Mix well.
Add wet ingredients to dry ingredients. Mix until batter is smooth.
Drop by teaspoonfuls onto greased and floured cookie sheet.
Bake in 350° oven for 10 to 12 minutes or until brown.
Reviews
Most Helpful
These are very rich cookies but oh so good! I scaled the recipe down to a 1/2 batch to make a lattice for a blueberry pie and still had a large glob of dough left over and got 3 cookies. No picture available...cuz I ate them! ;) They're good out of the oven but even better after cooled off and crisped up. I subbed the butter for canola oil, if others want to do so scale it down 1-2 Tbsp or else they will be very greasy to handle. For "1/2 egg" I separated a small egg that had a few drops of yolk left, binded up just perfect. The spice mix is just superb, outta this world! Made for Veggie Swap 24.

These were very good soft cookies. Very unique tasting and slightly addictive (even for me, who isn't crazy about cardamom). Next time I might add a dash of salt.

We absolutely loved these! Not only are they delicious, but easy to put together as well! Like other reviewers, we only got 2 1/2 dozen cookies, and that was using my tsp cookie scoop. Thanks mersaydees for posting this winner, and thanks Cookgirl, for putting it in your Best of 2010 cookbook so I could try it!