Fingerling Potatoes With Aioli
Ms B.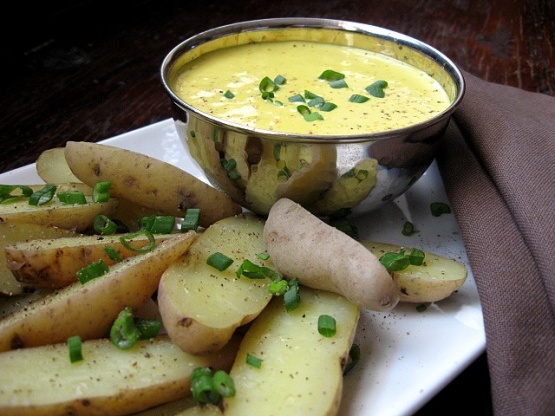 This recipe is one of Ina Garten's (Barefoot Contessa) newer recipes(Copyright 2006). I watched her make it last night and I can't wait to try it. It looks so good!

Top Review by Ms B.
This was a great starter for a dinner of recipe #173918, recipe #12757, and Asiago Garlic Bread. I tend to never use measuring spoons (except for baking) and think that I got a little too much lemon juice in the aioli, but the tartness was a good contrast to the other rich elements of the meal. I will add this recipe to my list for entertaining. So great that it can be prepped ahead of time so that I can enjoy my guests.
Rinse the potatoes and put them in a large saucepan and cover with salted(1 tablespoon) water and bring to a boil.
Simmer uncovered for 15-20 minutes, until they are just tender.
Drain the potatoes in a colander and place a kitchen towel on top, allowing them to steam for 5-10 minutes.
For the aioli, tear the slice of bread into pieces and place in a bowl and pour the vinegar over the bread and set aside for 5 minutes.
Place the garlic cloves, egg yolks, zest, juice, saffron, crushed red pepper flakes(if using), 1-1/2 teaspoon salt and 1/2 teaspoon freshly ground pepper in the bowl of a food processor fitted with a steel blade; add the bread and puree into a paste.
With processor running slowly pour the oil through the feed tube until it is the consistency of thick sour cream. Place in a serving bowl.
Slice potatoes in half and place them on a serving plate.
Sprinkle with salt and pepper, and decorate with chopped chives and serve with aioli.