Fingerling Potato Salad With Honey-Thyme Vinaigrette
WiGal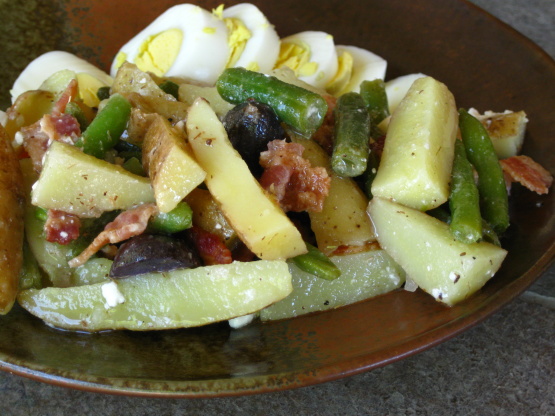 If you are on Chicago's Miracle Mile near the Marriott, watch out for bees! Chef Myk Banas keeps hives on the rooftop and uses the honey in dishes served at the restaurant. This is a very nice potato salad, very fresh tasting. The nutritional information is off, because there is twice as much dressing as you will need, but according to the chef it will keep for several weeks, so make the entire quantity. Chilling time not included in cooking time. From Midwest Living, June 2011.

Took your advice & made the full batch of dressing, then, just for the 2 of us fixed 6 of the little fingerlings & that worked out just fine! This first time around I used Hormel's Real Bacon Pieces! What a great new way for we to enjoy potatoes, especially during the warm summer months! This is a wonderful keeper of a recipe ~ Thanks for sharing it! [Tagged & made in Please Review My Recipe]
Scrub the potatoes and cook in boiling water with the 1 tsp salt until just tender, 8 to 10 minutes. Drain well and spread on a cookie sheet to cool. Halve lengthwise when cool enough to handle.
Trim and halve haricots verts or green beans. Drop into 3 cups boiling water, return to boil, reduce heat and cook 1 to 2 minutes, until crisp-tender. Drain and drop into a bowl of ice water. Let stand 5 minutes, then drain well.
For vinaigrette, mix vinegar, shallot, honey, thyme, mustard, salt and pepper in food processor or blender and process until smooth. With processor or blender running, slowly pour in the oil in a steady stream, until the mixture is thickened.
In a large salad bowl, combine the potatoes, beans and red onion. Drizzle over enough dressing to coat everything thoroughly. Cover and chill from 2 to 24 hours.Serve.
Just before serving, toss salad with bacon and top with feta. Serve additional vinaigrette on the side, or reserve for another use.
Note1: Fingerling potatoes are not around just now, so I used red potatoes that I peeled and cut into quarters or eights, which worked very nicely. I have also added some sweet potatoes to the other potatoes, and that was good, too.
Note2: I mixed the vinaigrette in a 2 cup measuring cup with my stick blender, which worked perfectly.
Note3: Extra dressing keeps for several weeks, according to chef, but I used it up faster than that.
Note4: This makes a whole lot more salad than I can use. I just cook up two or three potatoes, a good handful of the beans and drizzle a bit of the dressing on it. Once you make the dressing, this is a snap.
Note5: I use just a slice or two of bacon per serving, and often don't use it at all. I think chunks of good ham or turkey would be really nice in this, too.