Finallywroteitdown Chicken, Sausage and Shrimp Jambalaya
Shasha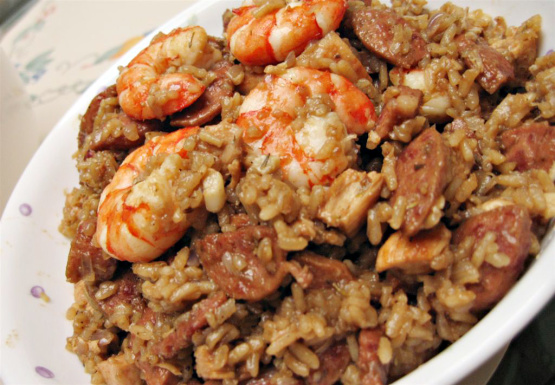 I've been making a kind of freestyle jambalaya for years; as the title says, I've finally written down a basic recipe for my creation. But don't let it end here; jambalaya is a dish that you can truly play around with. You could also add bell pepper at the point where you cook the onions and garlic (part of the holy Cajun trinity but I don't like cooked green pepper so I sacreligiously omit it); or use andouille sausage or add cubed pork or ham to the dish. My only real contingency is that you don't use beef, though... no place for that in jambalaya, IMHO. And as much as I love tomatoes, I do not care for them in my jambalaya, either.

This was excellent! I too don't care for bell pepper and tomato in my Jambalaya. The only thing I did different was add the chicken when I added the shrimp since it just needed to be heated through. I also had to add about a 1/4 cup additional chicken broth. My husband loved it for his "Mardi Gras" dinner and since he likes things spicier than I, he put a few dashes of Cholula sauce on top! Will definately make again... especially since we also didn't have much for leftovers!
In a large Dutch oven, cook the smoked sausage in the olive oil until browned; add the onion and garlic and saute until golden and transparent.
Add the uncooked rice and cook, stirring briskly, until just starting to turn golden, then add the chicken broth and Worcestershire Sauce, stirring to combine with the rice-sausage-onion-garlic mixture.
Bring to a boil, then reduce heat and add the cooked chicken, thyme, oregano, bay leaves, cayenne pepper, white pepper and black pepper.
Cook, covered, over low heat for about 30 to 40 minutes; add more liquid if you need to.
Then add the shrimp, cover, and cook for another 10 minutes or until shrimp is pink and cooked through.
Season to taste with salt and more pepper if you like.