Fillet of Sole Ponte Vecchio Style
Bergy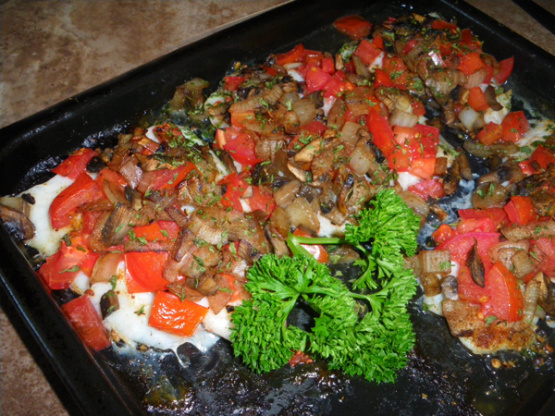 This recipe is from a restaurant in Florence, Italia.

Top Review by Bergy
This is so tasty. I used a basa filet, no butter and cut back on the wine. I didn't precook the tomatoes but just placed them on the filets then added the remaing ingredients and 1 tsp Old Bay spice. 15 minutes baking and they were perfect. A definite do again recipe
Cut each fish fillet into 4 pieces lengthwise and set aside. Rinse and dry the mushrooms and chop coarsely. Over medium heat, melt 1 tablespoon of the butter, add the onion and cook, stirring frequently, until soft,about 5 minutes. Sprinkle with salt and pepper. Add the mushrooms, reduce the heat and continue to cook, stirring constantly until the mushrooms are soft, about 8 minutes. Add the wine and continue cooking for 2 more minutes.
Preheat the oven to 350°F Add the tomatoes (and up to 1/2 cup of their juice if using canned tomatoes) to this mixture. Stir and season the mixture with salt and pepper to taste. Add the scallions, stir, cover and simmer for 10 minutes. The mixture may require some water, additional wine or tomato juice to keep it thick but not dry; add what you need to suit your taste. After 10 minutes, stir in the parsley and remove from the heat.
Use the remaining tablespoon of butter to grease an ovenproof pan large enough for the 16 small fish fillets. Season them lightly with salt and pepper and pour the sauce over the fillets. Cover the pan with foil and place in the oven for 15 minutes. Serve with buttered potatoes or steamed white rice.