Fillet of Beef (Beef Tenderloin Whole)
Laryofvt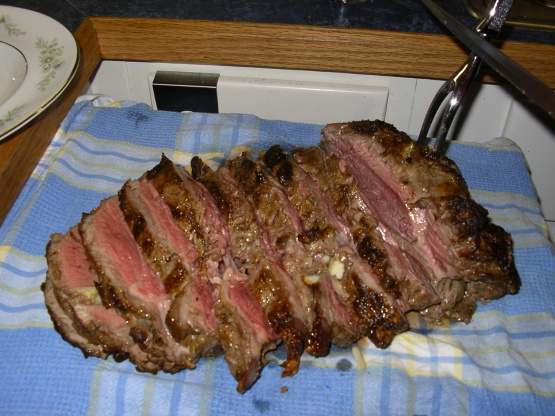 How to cook a whole or large piece of beef tenderloin. Note from UnknownChef86: This is a recipe I adopted in 2006.

perfect! this is the easiest way to cook a rare tenderloin. i followed the recipe exactly and roasted our 5 pound tenderloin for 25 minutes and let it rest for 20 minutes. it was cooked to perfection...pink and juicy. thank you for the recipe.
Preheat the oven to 500 degrees F.
Place the beef on a sheet pan and pat the outside dry with a paper towel.
Spread the butter on with your hands.
Sprinkle evenly with the salt and pepper.
Roast in the oven for exactly 22 minutes for rare and 25 minutes for medium-rare.
Remove the beef from the oven, cover it tightly with aluminum foil, and allow it to rest at room temperature for 20 minutes.
Remove the strings and slice the fillet thickly.
Note: Be sure your oven is very clean or the high temperature will cause it to smoke.