Filled German Chocolate Cupcakes
khatcher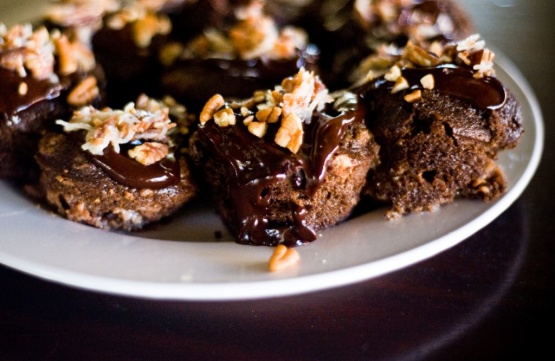 Calling these cupcakes is almost misleading. They're rich, decadent and almost sinful. Leave the other cupcakes for the kiddos and serve these to the adults.

I would give this more than 5 stars if I could. I made these for a bake sale and was a little leery because I had not made this before. I followed the directions exactly and ended up with the best cupcake I have ever made. I did have to let them sit in the cupcake tins a little longer than 10 minutes, the first two I tried to take out stuck a little, and darn it all, I had to leave them at home. My hubby ate them and said 5 stars. My boss also said 5 stars. Make these cupcakes, you won't be disappointed!
Preheat the oven to 350°. Butter and flour a muffin tin.
Make Filling: Place half of the coconut and the pecans on a baking sheet and toast in the oven until the coconut is evenly browned (about 8 minutes). Stir together toasted coconut and pecans with the remaining coconut and condensed milk; set aside.
For Cupcakes: Sift together ALL dry ingredients into a large bowl.
In a another large bowl, whisk together whole milk, butter, eggs, almond extract and water until combined. Slowly add the dry ingredients to the egg mixture, and stir until just incorporated.
Fill cupcake cups 3/4 full with the batter. Drop in 1-2 tablespoons of the coconut filling.
Bake cupcakes for 15-18 minutes. After the cupcakes have baked, allow to cool for 5-10 minutes in the pan, then remove to a cooling rack.
While the cupcakes are cooling, melt the chocolate. Once completely melted, slowly stir in the cream.
Drop large spoonfuls of the icing on top of the cupcakes, and allow the chocolate to drip down the sides of the cupcakes. Either eat at once, or transfer to the refrigerator to allow the icing to set.