Filipino Spicy Sweet Potato Shoots, Tomato, Onion Salad
chef1aB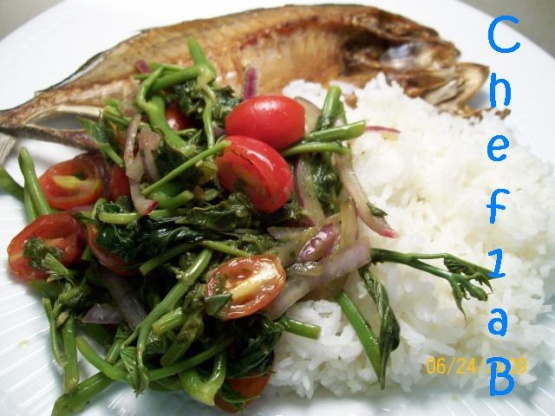 This is just my version of the sweet potato shoots (talbos ng kamote) salad that is usually paired with rice and fried fish or pork.
118.29

ml grape tomatoes, sliced in half

78.07

ml red onion, sliced

1

garlic clove, minced

1

thai chili pepper, thinly sliced

7.39-14.79

ml fish sauce, to taste
salt, to taste
black pepper, to taste

709.77-946.36

ml sweet potatoes, shoots blanched, drained, and cooled

9.85-14.78

ml vegetable oil (optional)
Combine tomatoes, red onions, lemon/lime juice, zest, garlic, chili pepper, fish sauce, salt, and pepper. Toss together. Allow it to marinate for 5-10 minutes.
Combine the tomato and onion mixture with the blanched sweet potato shoots. Toss together. Adjust salt & seasoning to taste.
Drizzle with oil.
Serve with white rice and fried fish or pork.