Filipino Pandesal Bread ( Bread Machine )
sdalisaymo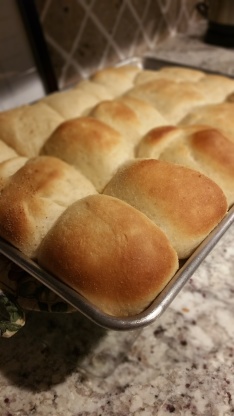 This recipe is from the Philippines. It makes the best rolls ever! They are wonderful fresh from the oven, with a little butter or some jam. They also freeze very well, so don't worry about any leftovers (if there are any!). Time to prepare the dough and rising time are not included. SOURCE: WWW. Just made these last night (did not follow the recipe exactly) and was very impressed! To make the recipe lighter on calories I reduced the butter to 3 tbsp plus one tbsp of unsweetened applesauce (didn't know if the applesauce would work but decided to give it a try anyways). The only bread crumbs I had on hand contained Romano cheese so I skipped this step and did not roll them in bread crumbs. I put all the ingredients into the bread machine and selected the "Dough" cycle. Once it was finished I divided up the dough but was only able to form 20 small rolls. 24 would have been much too small. Seeing as I skipped the bread crumbs, I rolled them into spheres and placed them on a baking sheet lined with parchment paper. Following the advice of a fellow reviewer, I preheated my oven to 170 F then shut it off and placed the baking sheet (covered with a tea towel) into the oven and let it rise again for 1 hour. They rose very nicely - puffy and soft. Note* Do not handle the rolls once they have risen as they will deflate -- learn from my mistake! After the second rise, I removed them from the oven and preheated the oven to 375 F. Once oven was ready, I baked the rolls for about 15 minutes until they were nicely golden. These were the softest, lightest buns I've ever had! Absolutely delicious! I will not rate the recipe as I made some modifications to it and did not follow it exactly but I do thank najwa.t for the excellent recipe!
Combine the water, evaporated milk and milk and heat in the microwave for 35 seconds. Run tap water over the egg for 30 seconds to warm it.
Add all ingredients (except the bread crumbs) in the order suggested by the manufacturer.
The dough is supposed to be somewhat sticky (when I made this recipe, it was not sticky but it turned out well anyway).
Spray two baking sheets with non-stick cooking spray; preheat oven to 375 degrees.
When the dough is ready, scoop out a small amount (about the size of an ice-cream scoop) and roll in bread crumbs in an oval shape; place on baking sheet.
Cover and leave to rise in a warm place until doubled.
Bake for 10 to 15 minutes, until golden brown.