mlao77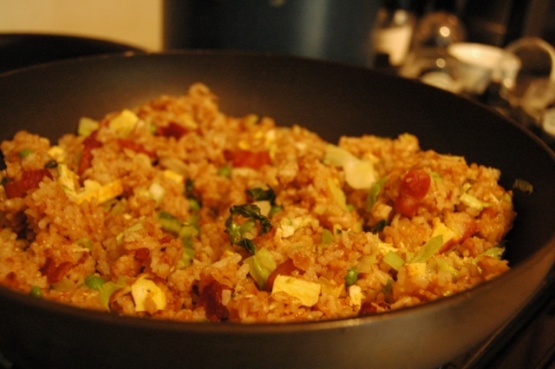 This is good, a little different. Do the pork and rice the day before...

Top Review by mlao77
Ahhhh... just like my mom makes (minus an ingredient or two). This is comfort food for me, so I just had to make it when I stumbled upon this recipe :) I used bacon and cubed SPAM (yes! you read it right!) and I omitted the roast pork, green pepper and carrots and used garlic, green onion (along with the minced onion), peas and shredded a quarter of a savoy cabbage. I also used a combination of pre-scrambled egg and cracked one egg in the center well of rice (this way I had the stickiness of the egg, but also some bright yellow pieces in the finished dish). I used dark mushroom soy sauce and I seasoned with a tiny bit of white pepper and kosher salt. My 5yo son normally refuses to eat any and all vegetables, but not today! He ate his entire bowl of fried rice very willingly. Thanks for this bit of home ;)
In a wok fry bacon until crisp. Drain well.
Re-heat wok.
Add the pepper, onion, cabbage, carrots and garlic. Stir-fry 3 minutes.
Add pork. Cook 1 minute.
Add rice. Cook 1 minute.
stir in peas and soy sauce. Cook 30 seconds.