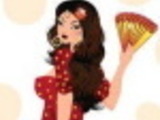 Traditional filipino chicken adobo! I always make enough to last a week! This is also great with my savory garlic fried rice recipe
Directions
Place chicken in a big stock pot.
Put in all your ingredients, you don't have to mix, it will mix when it boils.
After you add the ingredients, put in enough water to cover the chicken.
Bring to a full boil.
Once it starts boiling, turn the heat down (medium-high heat) enough to where it's a soft boil (boiling but not over boiling out of pot) and cover with lid but with a crack.
Stir every half hour or so.
Let it boil all the way until there is about only 1 inch of water left. This is usually about an hour to an hour and a half.
The liquid should be almost gone, but enough to have to pour over rice. The chicken should also be dark brown all the way through, if the meat is still whitish then you need to cook it longer.
Add the sliced onions and stir.
Cook for only 5 min just enough for the onions to turn soft.
*If adding potatoes then you need to cook for about 30 minutes until potatoes become tender, but do not add the onions at the same time. Add the onions when the potatoes have about 5 minutes left to cook.
Serve with cooked white rice or my savory garlic fried rice.
Reviews
Most Helpful
i just tried it now, it tastes good. My only comment is that i had opted to leave the potatoes out but since i had already put enough water to cover the chicken i ended up with a lot of stock that i wanted to reduce. SO i ended up putting the potatoes and onion to thicken up the stock. I also excluded bay leaf and still tasted good. Thanks!
This is closest to my recipe which I got from my daughter's college roommate's mom. We would often find ourselves together visiting our kiddos. And, this recipe is one of her staples. It has no potato or msg. Everything else is the same except it calls for twice the chicken. It is absolutely the best!