Filets, How to Do Filets (Or Other Steaks) in the Oven
gailanng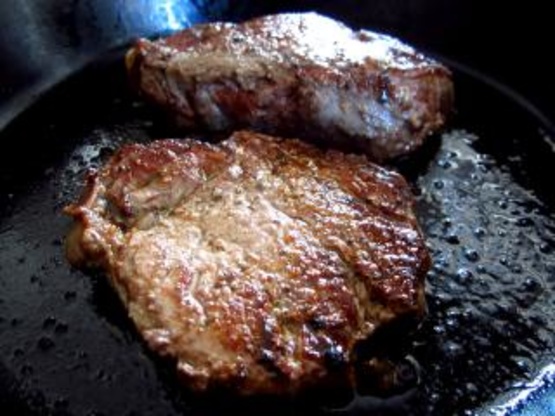 This is a method, not a recipe. I posted this in answer to a forum request from Bobbie #3. She was pleased with the way it worked and suggested the method might be a help to others. I have no clue as to where I picked up these directions. NOTE: Zaar insists on an ingredients list. Please disregard and just do your own thing. This is a METHOD, not a recipe.

Top Review by Bobbie
Jezski (Janet), Thanks for rescuing me with this cooking method. I had heard steaks could be browned and finished off in the oven -- but had no clue what the steps were. Your instructions were perfect -- and our filets were the best EVER!!!! I had very, very thick steaks and just knew I couldn't cook them the way we liked if I tried to do it all on the stove top. The steaks were a nice rich brown on the outside, but still pink and oh, so moist on the inside. I did use unsalted butter to brown the steaks in -- because that's what the recipe called for. There is also a sauce that is cooked after the steaks are done to serve over the meat. The skillet had such wonderful drippings and made the sauce better than it's ever been before. Thank you again for answering my "cry for help" in the Forum -- and a huge thank you for posting your cooking method for others to try.
2

steaks

1

tablespoon oil
salt and pepper
other seasoning, to your taste
Preheat the oven to 400 degrees.
In a medium skillet, heat the canola oil until it is very hot.
A cast iron frying pan, if you have one, works particularly well.
Season the filets with salt and pepper on both sides.
Sauté the filets briefly on each side in the hot oil, about 1 minute per side. Just get them nice and brown.
Place the pan with the filets directly into the oven and roast for about 5-7 minutes for medium rare.
Type of steak, oil, seasonings and degree of doneness are all up to your individual taste.