3 Reviews
This was stunningly delicious. I didn't change a thing either. Thank you so much for sharing.
This was the star of the dinner! So darn easy and it just melted in your mouth...I will be making this I bet over and over again for special occasions...
This review is only for the mushroom sauce. I made this as one of three sauces for a filet of beef at a dinner party and it was very well received. I will try the whole recipe in the future when I have the individual filets. Great make ahead dinner party idea. Thanks for posting!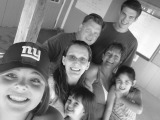 Filet of Beef Chasseur (Tenderloin-Filet Mignon)