filet mignon with tarragon
Rita1652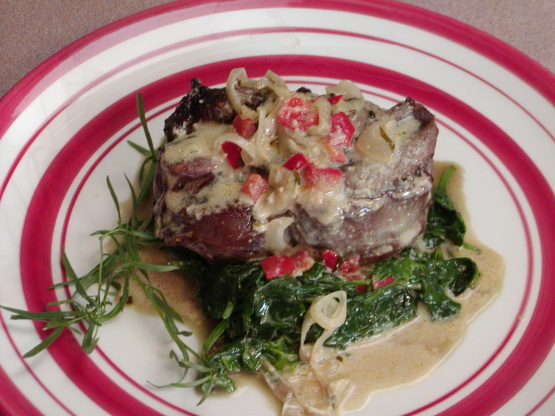 what a wonderful meal that is so easy to prepare. i love this served with new potatoes and a salad.
heat oil in saucepan, add shallots and cook for 3 minutes.
add stock, wine and brandy, reduce until thickened, 5 minutes.
add cream, reduce until 3/4 c, set sauce aside melt butter in skillet, add garlic, saute 1 minute.
add spinach, cook until wilted, tossing, about 2 minutes, set aside in another skillet heat oil, add tenderloins and cook until med rare, about 5 mins per side (i like mine cooked longer).
divide spinach between 4 plates, top each with a filet.
add sauce back to pan, stir in mustard and tarragon, add salt& pepper to taste, pour over steaks.