Filet Mignon With Blue Cheese
GaylaJ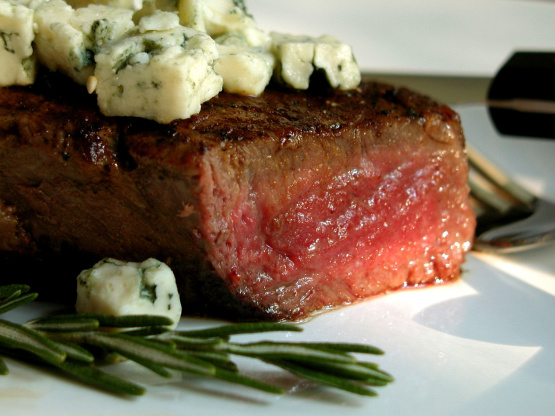 I got this recipe from a friend and he said This meat dish is the "bomb". If you love blue cheese this is one dish you must try.

Top Review by 3BURKS
This was a delicious compliment to the Omaha Filets we received for Christmas. Really easy - I did not have beef broth, so I used beef boullion and it was still delicious - I used unsalted butter and did not find that it was too salty with the boullion. I also steamed some potatoes on the side and then tossed them in the sauce to serve - delish!!!
Melt butter in heavy medium skillet over medium-high heat.
Season steaks with salt and pepper.
Add steaks to skillet and saute until cooked to desired doneness, about 4 minutes per side for medium-rare.
Transfer steaks to plate.
Add broth, brandy and rosemary to skillet and boil until sauce is reduced 1/3 cup, scraping up browned bits, cooking for about 5 minutes Spoon sauce over steaks.
Top each steak with half of blue cheese.
Serve.