jeannega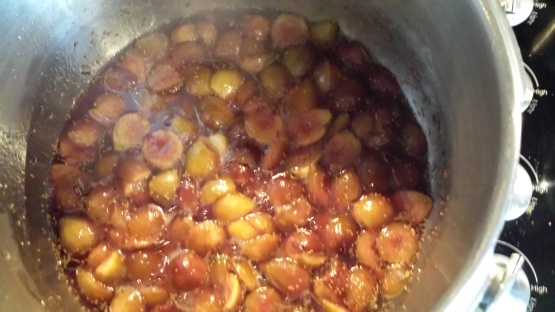 This recipe is posted by request.

Delicious! I didn't follow the recipe exactly, instead, melding suggestions from other readers. I cut the figs in half and used lemon juice only so that I wouldn't have to process the figs. It turned out beautifully. Had it on toast with cream cheese, and will use it for a pork loin stuffed with goat cheese and fig preserves.
Wash figs gently in cold water.
Place in a large bowl, fill with cool water and soak for 20 minutes.
Make a syrup by boiling the sugar and water together in a large saucepan.
When syrup is clear and just thick, around 15 minutes add figs and lemon slices.
Bring to a boil over high heat.
Boil hard 1 minute.
Lower heat and simmer for 30 minutes.
Remove from heat.
Carefully pour into a blender and pulse to grind figs and lemon slices.
You may want to cook down for 10 or 15 more minutes to desired thickness.
Ladle into clean hot sterile jars and process in a boiling water bath for 10 minutes.