chia2160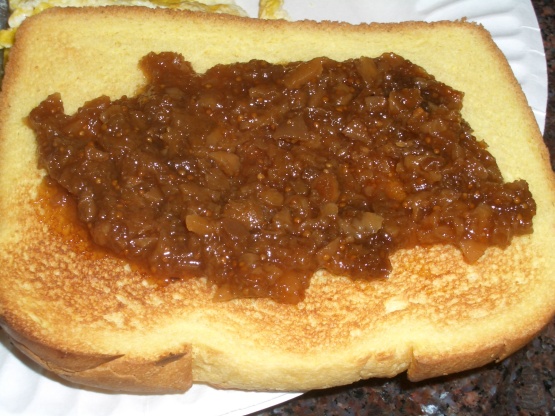 i tasted this at "philadelphia cooks" a few weeks ago . it was served over lamb tagine, to die for.

By itself this is a pretty basic recipe for figs-stewed-until-they are-thick. The maple syrup is a subtle but good sweetener for them. I didn't have any Mission figs, so I used Kalimyrna. They were as old as the hills so I had to stew them for twice as long as suggested in the recipe, and add a bit more water. This is supposed to be served over [recipe=84117]Shredded Lamb Tagine[/recipe] which is what I did and Wow! it really is a great taste combination.
remove stems from figs.
put figs and lemon juice in a processor, process until figs are chopped.
put chopped figs, water, syrup and salt in a saucepan.
bring to boil, lower heat to simmer and cook 25 minutes until thick.
cool, serve.