Figs stuffed with Rosemary Goat Cheese, wrapped in Proscuitto & baked.
Directions
Trim tough stems from figs, make a partial cut through each, at least halfway. Do not cut all the way through.
Mix cheese with rosemary.
Using a baby spoon, scoop some cheese & smear into opening in fig. It's ok if it shows.
If figs are small, cut ham in half lengthwise.
Wrap 1 slice ham around each fig, secure with toothpick, put figs on cookie sheet. Cover & chill if making ahead.
15 minutes before you are ready to serve, remove figs from refrigerator & preheat oven to 350'.
Put figs in oven, remove when ham sizzles, not burns, about 8-10 minutes.
This appetizer is unusual in the combination of flavors & textures. You get salty, sweet, crunchy (fig seed), chewy, creamy, tart, savory all at once. Great with a good Port. I got this recipe many years ago and it is always popular.
Most Helpful
I have made these approximately 5 times. They are amazing! Thank you for posting and I apologize for not reviewing sooner.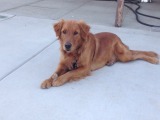 WOW! Absolutely delicious and totally addicting. These were made for us - she also included a pecan halve in them, and broiled them for 5 minutes (instead of baking). They were the hit of the party, people literally could not stop eating them!

This is fig heaven! And pig heaven too if one is not careful--hard not to eat them all! I made one concession to everyone's waistline--I used reduced fat creamcheese mixed with rosmary out of the garden. These will be made often!