Fig, Blue Cheese & Prosciutto Piadina
BarbryT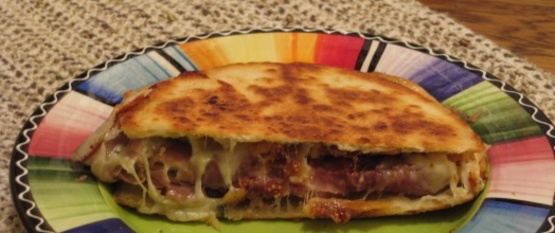 Super easy -from a local restaurant

A very special treat. Crispy, salty, sweet and unctuous. For a single person, I used small tortillas and my favorite blue cheese (Point Reyes). I crumbled the cheese over one tortilla and heated it in the microwave for about 15 seconds so it was easily spreadable. Since fresh figs are not in season, I used a couple of dried "white Turkish" figs. Very good but very sweet. I suspect I will enjoy this even more with fresh figs.
Lay 1 wrap on chopping board and spread blue cheese evenly over.
Sprinkle with half the mozzarella.
Lay fig slices even over the cheeses, then the proscuitto.
Sprinkle the remaining mozarella over the proscuitto and cover with the other wrap.
Heat a large frypan with a little oil then lay the wraps in the pan.
Cover and fry for 2-3 minutes on one side.
Gently flip and cook another 2-3 minutes.
Remove and cut lengthwise - serve hot.