Annacia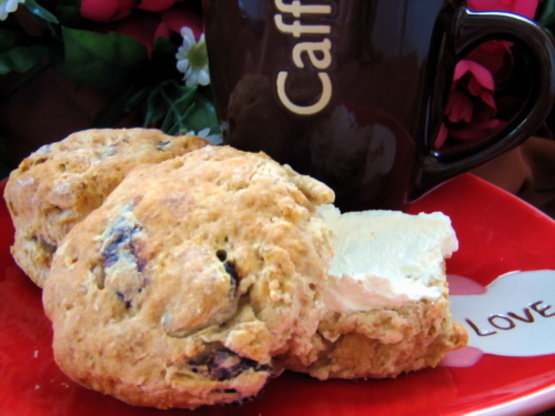 Fig and ginger jam or conserve is so delectable on a warm baked bread or scone, so why not bake the fruit and spices right into the dish? This is an Australian recipe adapted in my kitchen.

While the final outcome of this recipe was delicious I did need to add 1/4 cup of Splenda to it and another 1/4 cup of liquid to get it moist enough to hold together for kneading. I absolutely love the fig and ginger combo and the crystallized ginger was wonderful. When I first saw this I thought that the figs and candied ginger would supply all of the sweetness needed but for myself I found that it needed a bit of extra help in that department. They were baked at 425 for 12 mins and were perfect. Golden, tender, moist and yummy.
Preheat the oven to 230 Celsius.
Sift flour, baking powder, baking soda, salt and ground ginger together and place in a large bowl.
Rub in the butter with your fingertips until the mixture resembles fine breadcrumbs. Add the crystallized ginger and figs then add the combined milk and water and mix gently but thoroughly until the dough comes together.
Turn out the dough, adding a little flour if the dough is sticky. Knead very briefly until the dough is manageable - do not overmix.
Flatten the dough to about 1 inch thickness then use a 2 to 2 1/4 cutter to cut out rounds.
Place the cut rounds on a non-stick baking sheet then gather up any remaining scraps and knead briefly. Cut as many more rounds as possible then place these on the sheet.
Brush the scones with a little milk then bake for 10-12 minutes until golden.
Serve with butter, marmalade or jam.