GaylaJ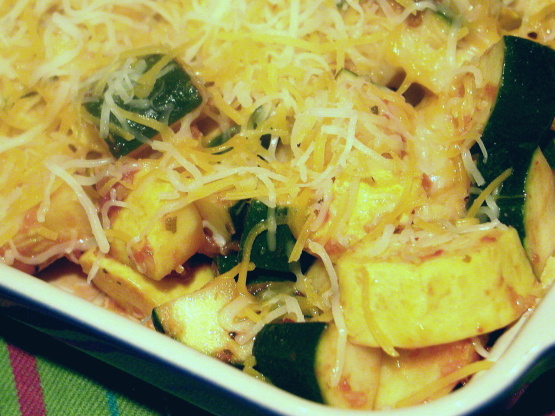 Squash with a bit of a Tex-Mex twist. I served this as something different to side with tacos and just used what I had on hand: a zucchini and a yellow summer squash, hot and spicy chipotle salsa, and a colby-monterey jack blend. This was adapted from a reader-submitted (Desiree Zamorano) recipe in Bon Appetit.

I now know what to do when i have too much zucchini and summer squash. I could eat this whole pan. :) It also comes together fast which is great!
Heat olive oil in heavy medium skillet over medium heat.
Add zucchini, garlic, and oregano; sauté about 2 minutes, until garlic is just golden.
Add salsa, lower heat, and simmer until zucchini is just tender, around 4-6 minutes.
Sprinkle cheese over zucchini, cover and cook until cheese melts and zucchini is done to your liking.