Fiesta Vegetable Stuffed Bell Peppers
Junebug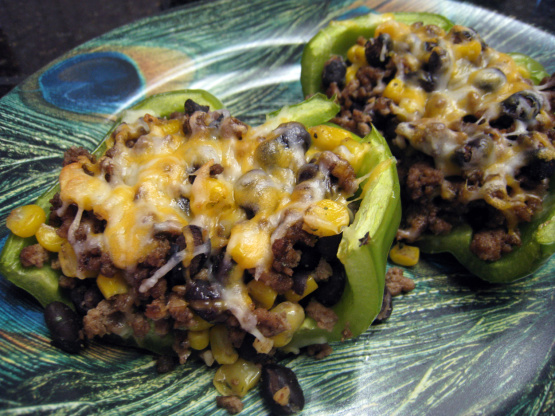 I created this recipe by just putting together ingredients that I like. A tasty Southwestern appetizer, sidedish, or even main course.

A big hit at a Mexican themed party I had. I used these baby sweet peppers (red, orange and yellow) that you can get at costco, so they were bite-size. I sliced them lengthwise and stuffed them. I used Mexican chese instead of chedder, but I think next time I'll use cheddar. I broiled them for 15 minutes. They were so beautiful...
Preheat oven to 350 degrees.
Cut the peppers in half lengthwise and clean out the seeds.
Chop the onion and sauté until they are soft but still slightly firm.
Mix the onion, black beans, and corn together in a mixing bowl.
In a separate mixing bowl, combine the olive oil, cumin, cayenne pepper, garlic, and cilantro.
Add the oil mixture to the vegetables, mix until they are thoroughly coated.
Fill the pepper halves with the mixture.
Top each pepper with combination of the two cheeses.
On a cookie sheet, bake for 8-10 minutes or until the cheese is completely melted.