Fiesta Taco Potato Cake Bruschetta
patcook1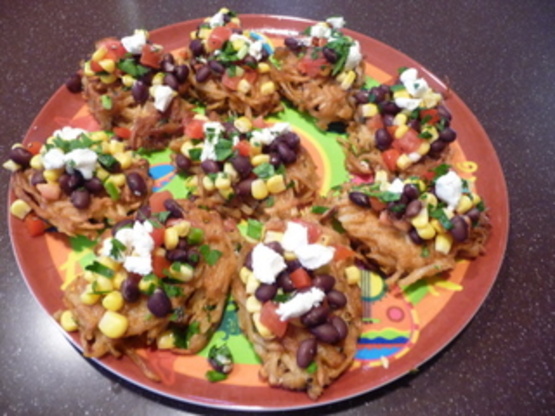 Ready, Set, Cook! Special Edition Contest Entry: This recipe is a festive take on Mexican bruschetta using potatoes as the base with a lively colorful corn/black bean topping.

This Recipe is Diffidently a FIVE STAR*****
1⁄2 cup canned whole kernel corn, drained
1⁄2 cup canned black beans, rinsed and drained

2

tablespoons red bell peppers, chopped

2

tablespoons green onions, chopped
1⁄4 cup fresh tomato, chopped
1⁄4 teaspoon ground cumin
1⁄2 teaspoon granulated sugar
1 1⁄4 teaspoons kosher salt, divided
3⁄8 teaspoon fresh ground black pepper, divided

2

tablespoons white wine vinegar

2

tablespoons canola oil, divided
1⁄2 teaspoon canola oil, divided

1

(20 ounce) package Simply Potatoes® Shredded Hash Browns

1

large garlic clove, crushed

3

tablespoons chopped cilantro, divided
1⁄3 cup yellow onion, chopped
2 1⁄2 teaspoons packaged taco seasoning

2

large eggs
1⁄4 cup all-purpose flour

2

tablespoons butter

1

ounce goat cheese, crumbled
In a medium bowl, combine corn, black beans, red bell peppers, green onions and tomato. In a small bowl, place cumin, sugar, 1/4 t. Kosher salt, and 1/8 t. black pepper. Whisk in vinegar and 1/2 t. canola oil; stir mixture into vegetables; set aside.
In a large bowl, mix together hash brown potatoes, garlic, 2 T. cilantro, yellow onion, taco seasoning, remaining 1 t. Kosher salt and 1/4 t. black pepper. Mix in eggs and flour. In a large non-stick saute pan or skillet, heat canola oil and butter over medium-high heat, using 1 tablespoon of each at a time. Spoon 6 mounds of potato mixture, using 2 generous tablespoons for each into heated oil mixture. Fry several minutes until golden brown and crisp on underside; flip over and fry until golden and crisp.
Drain on paper toweling. Repeat with remaining oil and butter and potato mixture, making 6 more mounds; drain on toweling.
Spoon corn/bean mixture evenly over each potato cake. Divide crumbled goat cheese evenly over cakes and sprinkle with remaining 1 T. chopped cilantro. Place potato cake bruschettas onto a serving platter.