Derf2440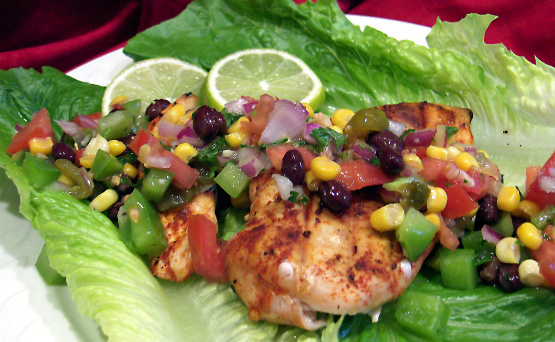 Tequila and lime seasoned chicken breast topped with Tex-Mex bean salad. Quite tasty. This is great for a summer BBQ. I serve this with grilled corn-on-the-cob.

wow, real 5 star taste!! The salsa with this was sooo tasty and the marinade for the chicken did as it should have, wonderful tasting chicken with perfect timing for the grill, juicy but no pink! Couldn't find any black eyed peas, but we didn't miss them. I cut the recipe back and used just two chicken breast halves, frozen corn kernels, didn't have any canned and parsley instead of cilantro. We will be making this one again, thanks for sharing a real repeater!!
Combine all ingredients for Texas Bean Salsa. Cover, and refrigerate 6 hours or overnight.
About 45 minutes before serving, place chicken breasts in baking dish. Squeeze lime juice over chicken. Drizzle with tequilla or apple juice. Sprinkle with paprika, salt and black pepper. Cover and marinate 10-60 minutes. Remove from marinade and grill or broil 10-12 minutes, until cooked, turning once.
Lay a lettuce leaf on each plate. Place a chicken breast on top of the lettuce leaf, and top each chicken breast with 1/6 of the Texas Bean Salsa. Garnish with additional cilantro leaves and/or lime wedges if desired.