Fiesta Chicken Burritos Crockpot
loof751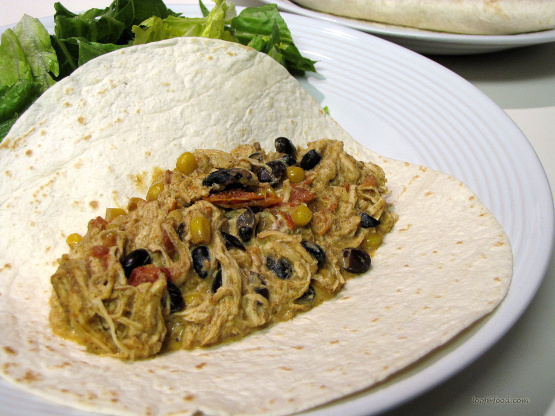 The basis for this recipe was from Taste of Home. I changed it to reflect our likings. It has a bit of kick without being over the top. Does have a strong cumin flavor, but that is the way we like it. I like to use seasoned salt and pepper to sprinkle over the raw chicken before putting it in the crockpot.

This stuff is terrific! We love cumin so the seasonings were just right for us. I was a little iffy about adding the cream cheese but followed the directions as written and wow - that addition took this to a whole new level! Served in lowfat tortillas and didn't use any additional toppings - this is perfect just on it's own. Thanks for sharing your recipe! Made for Spring Pick-A-Chef 2012
Use nonstick spray to spray the interior of 5-6 qt crockpot. (I actually use the crockpot liners for easy cleanup.).
If doing, season salt and pepper each side of the chicken.
Lay raw chicken in bottom of crock.
In medium size bowl, stir together the corn, beans, tomatoes, green chilis and spices. Pour over chicken.
Cook on low 4 to 5 hours until chicken is tender and no longer pink.
Pull out chicken and shred using 2 forks. (Careful meat is very hot).
Return chicken to crock pot and stir to combine.
Place 8 oz of cream cheese on top of mixture and let melt about 15 minutes. Then stir to completely combine.
Let the whole mixture set for another 15 minutes before serving to let the flavors meld.
Warm tortilla. Add about 1/2 cup of chicken mixture and roll/fold up burrito.
Top with your favorite toppings.