gailanng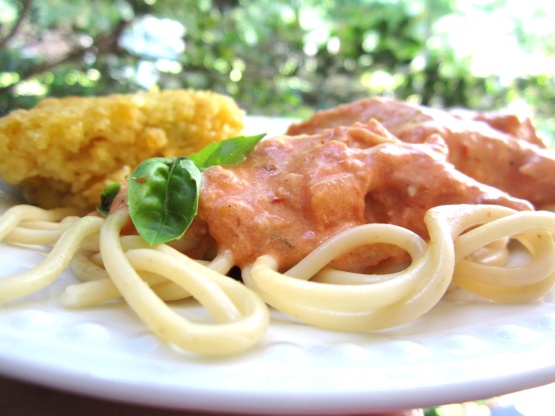 Fast, Fast, Fast- This dish takes less than 30 minutes start to finish. My DS loves it. Left over chicken can be used to reduce cooking time even further. We sometimes prepare this with angel hair pasta in place of the spaghetti.

Oh hi, Brenda! Don't mind me. I'm just sitting on the other side of your computer polishing off my plate of your tasty Fiesta Chicken.
In a large deep skillet, cook chicken breasts in 1 tbsp of oil until cooked through and no longer pink.
While chicken is cooking --
Bring 2 quarts of water to a boil and cook spaghetti 11-13 minutes. If substituting a different pasta for the spaghetti, cook according to package directions.
Drain spaghetti and keep warm.
When chicken is done, leave in skillet and slightly pull chicken breasts apart into a few larger sized pieces (or bite sized pieces if you prefer) with 2 forks, or use left over chicken cut into bite sized pieces.
Add salsa to the skillet, stir and heat through.
Stir in Sour Cream, and 1/2 of the cheddar cheese. Warm a minute longer on low heat.
Serve over cooked spaghetti, and sprinkle with remaining cheese.