Fiesta Black Bean Bell Pepper Skillet
bunkie68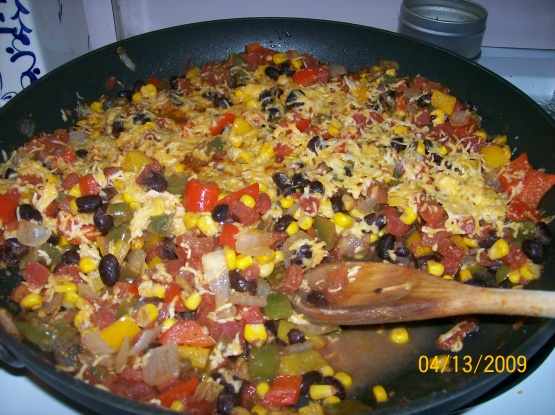 This is something I just threw together for dinner tonight. My husband and I both loved it so I wanted to share it.

This was very good. I added plenty of seasoning but we still felt like it was missing something. We added some cilantro and that helped a bit. To keep it vegan I served with diced avocado instead of the sour cream. It was served one day with tortilla chips and the next rolled in a tortilla. Thanks for a quick & easy meal!!
In a large non stick skillet sauté onions until they soften. Add peppers and seasonings and sauté until peppers are almost tender. Add tomatoes, beans, corn and lime juice. Cover and let simmer until tomatoes are soft but not mushy.
Serve with tortilla chips and sour cream.
As an alternative, once the peppers are tender transfer the mixture to an oven-safe dish, mix in the remaining ingredients, cover with shredded cheese and bake until the cheese melts.