teresas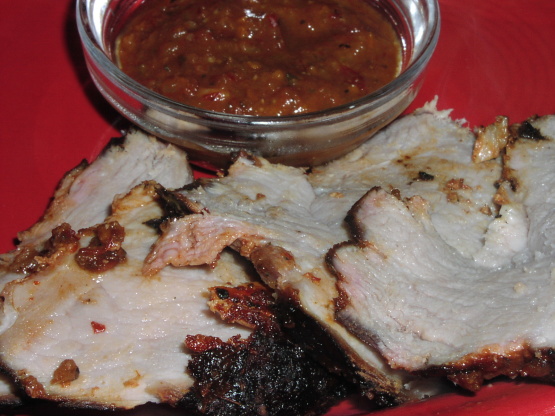 Pork loin marinated in a spicy chipotle mixture and grilled or rotisseried. This has some fire to it! Pork can also be roasted in oven. Prep time includes marinating.

Wow! I think this is one of the best pork loins yet! I made half the recipe since I had a 1 lb. loin. One chipotle was plenty. I rubbed this all over the pork and marinaded for about 4-5 hours. I cooked the pork in our inside rotisserie and the flavor was phenomenal! The pork was so juicy and had a nice crunchy crust. It wasnt too spicy for the hubby either. It had nice flavor thru out. So good! I will make again and again! We both were "yumming" the whole time! Thanks for the great recipe!
Place all marinade ingredients in a blender and blend until smooth.
If pork loin needs to be tied, do so now.
Place pork in a large zipper-type plastic bag. Pour marinade over roast and seal bag. Turn it several times to get meat covered.
Refrigerate for at least 4 hours, turning occasionally.
Prepare grill or indoor rotisserie.
Remove roast from marinade (reserve marinade) and put on spit.
Cook roast 1-1 1/2 hours, or until internal temperature reaches 150°F Baste occasionally with marinade.
Let roast rest 10 minutes before carving.
Put reserved marinade in small saucepan and heat to boiling. Serve with sliced meat.