teresas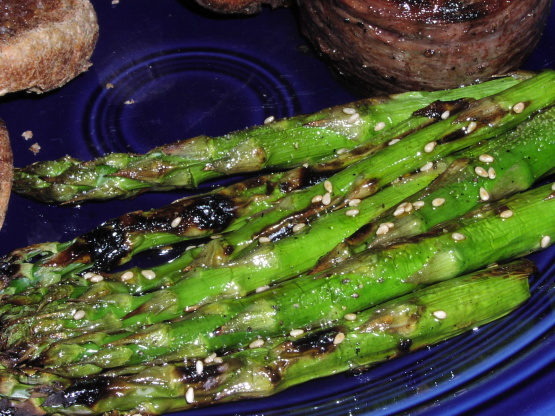 This is a perfect side dish recipe for the grilling season. It's can be served at any temperature and it goes with most anything.

DH and I served this tonight with firecracker trout posted by Wendy's Kitchen. We thought the asparagus had nice flavor and kick, but was a little heavy on the rice vinegar. This was very easy to prepare--we followed the directions as listed. Thanks for an enjoyable side dish.
Rinse asparagus and trim off bottom of stalks.
Place on grill over high heat and cook, turning frequently, until crisp tender and lightly charred.
Remove from grill and place in a bowl.
In a small bowl, whisk together the oil, vinegar and sugar.
Pour over asparagus and toss to coat well.
Season to taste with salt and pepper and sprinkle with toasted sesame seeds.
Serve hot, cold or at room temperature.