pzrider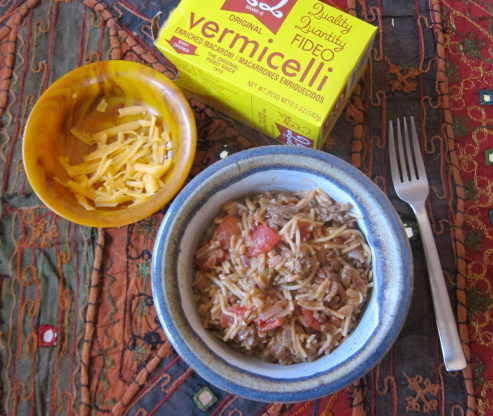 My mom used to make this when we were growing up. This is not her exact recipe, I wrote it down as I went. We don't follow recipes or measure frequently made foods in my family. I learned to cook by watching and doing, so I have to write down as I go on a lot of recipes. You can adjust the spices to suit your taste. I use more, because I like it hot. You can leave out the beef and use as a side dish.

wow very very good! I made just a few changes for what I had on hand. not much different from the original.<br/>No crushed red pepper: Used 1 Tbsp srircha instead, no green chilies: used 1 can mild rotel and 1 can of petite diced tomatoes instead of the 3 cans recipe called for. we topped ours with a mix of cheddar and Monterey jack cheese. OH and I didn't have regular chili powder so I had to use HOT Mexican chili powder. we will definitely have this again. I might even tone down the heat and make for a pot luck!
Brown ground beef with chili powder,red pepper,cumin,salt,onion,garlic and jalapeno.
Set beef mixture aside.
In a large deep skillet with a lid, heat oil and add fideo,broken into small pieces, and orzo.
Stir constantly for 2-3 minutes, allowing pasta to brown lightly.
Turn heat down to medium.
Add beef mixture to skillet with pasta.
Add canned tomatoes juice included.
Add canned green chilies.
Mix beef bouillon powder with 2 cups hot water and add to pasta.
Place lid on skillet and let simmer for 20-30 minutes, until pasta is cooked.
Top with grated cheddar cheese.