Fiddlehead Ferns and Shrimp over Linguine
Rita1652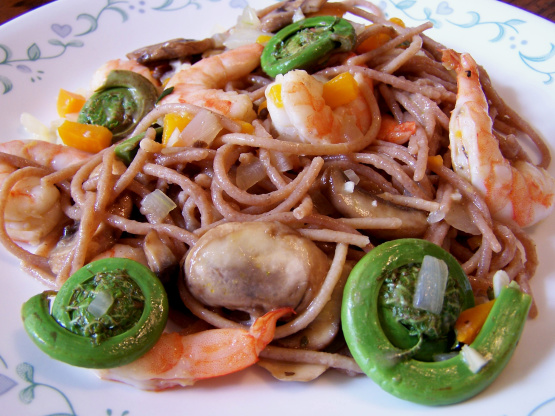 Also known as the Ostrich fern is a Maine delicacy that appears in the early April and May. The botanical name for the ostrich fern is Matteuccia struthiopteris. Gather your fiddleheads in early spring, as soon as they appear within an inch or two of the ground. Carefully brush out and remove the brown scales. Be sure to cook fiddleheads thoroughly before eating (boil them for at least 10 minutes.
Cut off ends of fiddleheads; Remove scales and wash thoroughly.
Cook fiddleheads in boiling water for ten minutes and drain.
In a nonstick skillet heat then add oil or butter and melt.
Add onion and peppers and sauté until crisp-tender. Stir in fiddleheads and garlic.
Add sliced mushrooms, pepper, and salt to vegetable mixture; stir well. Add shrimp and stir well. Cook, uncovered, over medium heat three to four minutes or until mushrooms are tender, stirring often. Stir in lemon juice; cook until heated through, stirring often.
Place pasta ( in the picture I used sprouted whole grain pasta) on a large platter. Spoon shrimp mixture on top. Serve immediately.
Sprinkle lightly with extra virgin olive oil if desired.