Feuerzangenbowle (Burnt Punch, Traditional German Beverage)
-Sylvie-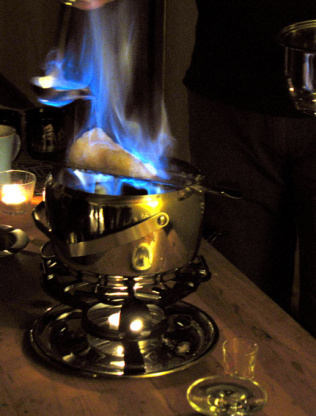 Feuerzangenbowle has a long tradtion in our family. We used this recipe now for years and we don't change it. Feuerzangenbowle will be made every year at least once. Invite good friends, sit around the table with the Feuerzangenbowle on it, talk, laugh and enjoy the company of good friends. Very communicative and festive. When you set the "Feuerzangenbowle" on fire dim the light and enjoy the magic of this very special attraction.

New Year's Eve was the first time I used this recipe. My Grandfather was from Germany and I wanted a festive punch that was authentic from his area of our globe. I had to use the sugar cubes then but have since found the zuckerhut (sugar cone) on germandeli.com. I had to go to several stores before finding rum that had the required alcohol content and finally found Bacardi 151 proof (75.5% alcohol). You might want to dilute it with some regular rum which is about 42%. It's pretty potent so you might want to mix the two - say 50-50. To hold the sugar, I found a stainless "Chinese spider" scoop at Williams Sonoma that fits nicely across my glass punch bowl and has two parallel stainless rods in the handle, about 3/4 inch wide that nicely holds the sugar cone. The spider scoop is great if you use sugar cubes but you have to hold it over the punch while the sugar melts into your brew. With the lights dimmed it makes a beautiful sight and photographic opportunity. Tonight our friends, a German couple, Indian couple and my wife and I will fire up the punch, sip some of the warm delight from Bavarian glasses, take some down to the basement Home Theater and watch the 1944 movie "Die Feuerzangenbowle" -- a comedy starring one of Germany's great actors from that era, Heinz Ruhmann (there's an umlaut over the u). The literal translation is Fire Tong Punch. It is a delicious concoction that can carry its own punch; it's fun to make, fun to watch, wonderful to sip. Enjoy.
For 10-12 glasses

2

oranges (unwaxed, organic)

2

lemons (unwaxed, organic)
8 1⁄2 cups red wine (2 litres, see note)

1

stick cinnamon, about 2-3 inches long

5

cloves

1

dash ginger, gounded
1⁄2 lb sugar loaf

2

cups brown rum (at least 54% alcohol)
Wash the oranges and lemons thouroughly, pat dry and cut into slices or wedges.
In a large pot add red wine, oranges, lemons, cinnamon and cloves. Heat up slowly, but let not boil.
Move pot from heat and place it on a heating surface, stove or flame (which you can place on the table, like the one you use for Fondue). Add ginger.
Place the sugar loaf above the red wine mixture (about 1 inch above the surface). You can use a special "fire tongs", which is made for this purpose. You can also a kind of wire netting to place the sugar loaf on.
Soak the sugar loaf with rum and light up the alcohol. The sugar will melt and drip into the wine. Add rum (little by little) to keep the fire burning until the sugar loaf is used up.
After the sugar loaf is used up stir gently and serve. If you like you can also use the orange or lemon wedges too.
NOTE on red wine: use a dry red wine. It should not be too light.
NOTE on equipment: there is a special equipment used in Germany, especially the fire tongs. You can make your own. It is important that the sugar can drop into the wine and that the sugar loaf can not fall down or that the hot (melted) sugar can drop outside the pot.
NOTE on how to light the rum: I put the rum into a small scoop and light it "outside" the Feuerzangenbowle and then pour it over the sugar loaf very carefully.
SAFETY: be very careful, you are handling with alcohol and fire. Take the necessary precautions.