Fettucini Diablo by Tyler Florence
Prep 20 mins
Cook 35 mins

Entered for safe-keeping, I love "diablo" pasta sauces for a change of pace. Note that creamy ricotta may not be substituted for the hard cheese sold as ricotta salata; if you can't find it, use shavings of the best hard Parmesan or Romano cheese available to you. San Marzano tomatoes are a variety of plum tomatoes considered by many chefs to be the best sauce tomatoes in the world; brands available in supermarkets include Cento, La Bella, Solinia and Vanita. As for the olives: does your supermarket have an "olive bar" that allows you to get a little of this and a little of that?
SAUCE

1 -2 tablespoon extra virgin olive oil
2 garlic cloves, minced
2 dried red chilies or 1 teaspoon crushed red chili pepper flakes
28 ounces san marzano tomatoes, drained (Brands include Cento, La Bella, Solinia or Vanita)
1⁄2 cup fresh basil, torn
1 medium onion, finely chopped
1 cup pitted olive, assortment encouraged
1 bay leaf
kosher salt, to taste
fresh ground black pepper, to taste

PASTA

16 ounces fettuccine
kosher salt ("to make it like sea water")

GARNISH

fresh basil leaf, for garnish
ricotta salata, shaved (for garnish)
Directions
PREPARE SAUCE:.
Take a large skillet and add a 2-count of olive oil over medium heat.
Once you get a shimmer, add the minced garlic and dried red chiles and cook for a minute until fragrant.
Add the chopped onion, pitted olives, torn basil leaves, thyme and bay leaf then cook until translucent -- about 2-3 minutes.
Strain the San Marzano tomatoes and hand crush into a separate bowl, than add to skillet.
Bring to boil, turn heat to low and simmer, uncovered for 10 minutes. (It is important to cook it down so there won't be a watery pool beneath the pasta.).
PREPARE PASTA:.
Bring a large pot of salted water to a boil to cook the pasta. (The salted water should taste like the sea.)
Cook the fettuccini al dente.
Drain (reserving 1/2 cup of pasta water) and dump directly into the diablo sauce.
(If the sauce is too thick, with a ladle, add some of the pasta water to thin out the sauce.)
Season with salt and freshly ground black pepper.
Garnish with basil leaves and some shaved salata ricotta.
Reviews
Most Helpful
Really enjoyed this. I also used the red pepper flakes, I was generous with them but could have added a bit more! Also used the shaved parmesan, and black olives, because I had them. Great recipe, made for PRMR tag game

This was a wonderful and easy recipe! I didn't have dried red chilies, so I used a full teaspoon of crushed red pepper flakes. I also found some mixed pitted olives in red pepper oil at the olive bar, which really ratcheted up the heat. For the tomatoes, I used a drained can of La Bella Diced San Marzano tomatoes. The sauce came out perfectly, and I didn't need to add any pasta water. Unfortunately, my market was out of ricotta salata, so I used shredded parmesan. Honestly, I don't think this pasta needs any cheese at all, though. It was delicious and filling and definitely on the list to make again.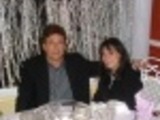 Boy this is just delicious! So easy to make and nice and spicy. I had some black olives so used only those but I agree that an assortment would be really good. Topped with shredded parmesan and really enjoyed - thanks for sharing the recipe!