Fettuccini With Spicy Tomato Cream Sauce
flower7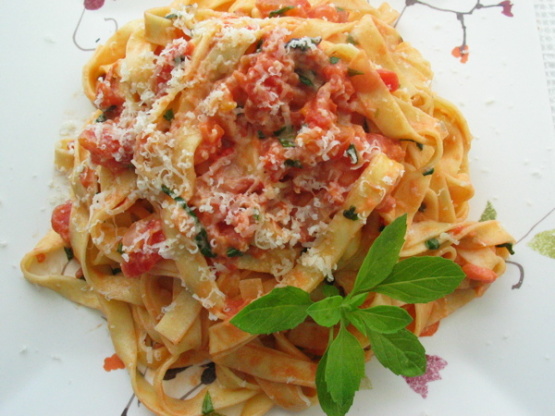 I got this one off the Internet several years ago. My husband and I love it! It tastes best with fresh fettuccini. To vary the heat, us more or less red pepper flakes. My husband hates chunks of tomatoes, so I puree the diced tomatoes. It changes the texture, but not in a bad way.

This is delicious! I made a few adjustments, though, which my husband and I both liked: I used sliced mushrooms instead of onions, I added a little red wine with the tomatoes (just Trader Joe's cheap stuff), and I stirred in a little of the grated parmesan to the pasta with the basil before serving (in addition to adding some on top). It was delicious! But definitely don't overdo it on the pepper flakes-- a little goes a long way in this dish!!
Melt the butter in a large skillet over medium heat. Cook onion and pepper flakes 5 minutes until tender.
Stir in tomatoes and salt. Cook over high heat until almost dry, 8-10 minutes.
Stir in cream. Bring to a boil; boil 1 minute.
Meanwhile, cook fettuccini. Drain pasta and toss with sauce.
Stir in basil. Serve with Parmesan.