Fettuccini With Creamy Gorgonzola Sauce
Prep 20 mins
Cook 30 mins

Not for those on a diet! Posted for the Zaar World Tour 2005. Recipe from Moosewood.
Directions
Cook fettucini according to package directions.
In a large saucepan, melt the butter. Mix in the cream or milk and heat carefully, not allowing it to boil.
Add the Gorgonzolo and cream cheese, stirring frequentlly until they are melted and the sauce is smooth.
Add freshly ground black pepper.
When pasta is al dente, drain it and mix it into the sauce.
Toss well to coat the pasta and serve immediately.
Pass the grated Parmesan at the table.
Reviews
Most Helpful
I made this today but served with angel hair pasta. This sauce was very tasty but I would definitely double it next time for a box of pasta! Thanks for sharing.
UPDATE: I made this today and used some lower-fat items and ommissions and this was still awe-inspiring! I didn't use any butter, used 2% milk, and less of both cheeses, prob abt 3 oz gorg cheese and 1/4 cup parm and it was still delicious. ORIGINAL REVIEW: I made only the sauce to use for some steak bites. Hubby and I loved it and we were thinking of other ways to use it - definitely with pasta, maybe add chicken and mushroom or a primavera type with zucchini and asparagus and red bell peppers. The possibilities are endless! Thanks for posting!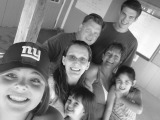 Outstanding! Used fat-free half and half, and reduced-fat cream cheese. I expected it to be good, but this was jaw-dropping.