Fettuccini With Asparagus and Garlicky Chicken
Sageca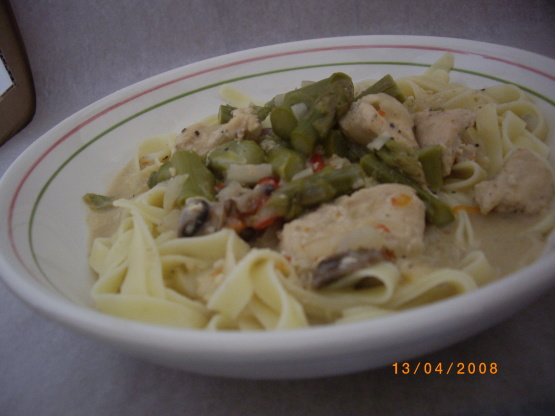 This colourful sauce is really low fat but High in flavour.

This dish is worthy of company. We made it pretty much as written -- using a little less garlic to accommodate a non-garlic-loving guest. Australia doesn't sell Italian salad dressing powder, so I used two tablespoons of Italian salad dressing. You didn't say how much pasta. We used 500 grams (1 pound).
Heat oil in saucepan;
Salt and pepper chicken; add to hot oil.
Cook until lightly brown.
Add mushrooms, onion,garlic, shallot. and powdered italian salad dressing.
Cook stirring occasionally for 5 minutes.
Stir in chicken broth,canned milk and cream cheese.
Add roasted red pepper and asparagus.
Cook gently another 5 minutes to blend in the flavours.
Add Parmesan cheese.
This can be made ahead and re heated at serving time.
Place fettuccini in pasta bowls and spoon on this rich tasting sauce.
Serve with a crusty bread, extra grated Parmesan cheese and the pepper mill.