Fettuccine With Parsley Butter in Pressure Cooker
diner524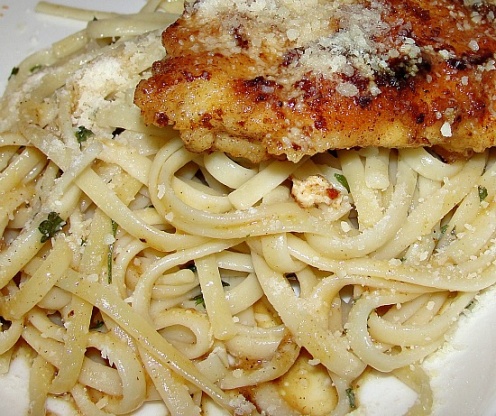 A personal favorite to save the air conditioning in hot weather. I love my Cook's Essentials 6-quart electric pressure cooker! From Toula Patsalis's "The Pressure Cooker Cookbook". Pasta can be cooked in the pressure cooker just until tender to the bite if cooking times are followed correctly. Short egg noodles may be substituted in this delicate cream dish.
Great way to keep the kitchen cooler but still get some yummy pasta. I made this as a side for Recipe #361518 along with green beans and garlic bread for a wonderful dinner. I didn't have the summer savory, so just made it without. The whole family enjoyed the pasta!! Thanks so much for sharing the recipe. Made for Newest Tag Game.
In a pressure cooker, heat oil. Stir fettucine into hot oil.
Add broth, salt, pepper, and savory. Secure lid.
Over high heat, develop steam to HIGH PRESSURE. Reduce heat to maintain pressure and cook 8 minutes. Release pressure according to manufacturer's directions. Remove lid.
Drain fettucine through a colander and return to cooker.
Add butter and parsley, mixing gently until fettuccine is well coated.
Pour into a serving bowl. Sprinkle with cheese.
Makes 6 servings.