Fettuccine With Mushroom Sauce
Nif_H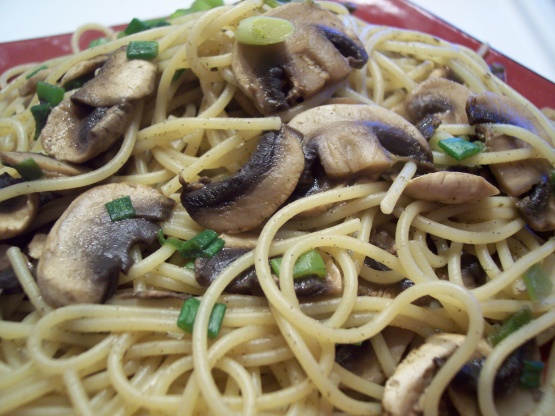 I found this on the back of a chicken stock carton. I haven't tried it yet.

Top Review by Nif_H
Low fat and fantastic! This was quick and delicious and I made 1 serving for lunch. I could not find green shallots here. I finally googled them and they are what we call GREEN ONIONS! Yay! I learned something for the next time I see this elusive ingredient! :) The only recommendation I would make it to not use ground thyme because that's all I had and it was pretty strong. I also only had spaghetti. Made for PRMR tag. Thanks! :)
Heat oil in a large frying pan over a high heat. Add mushrooms and cook, stirring often, for 5 minutes, or until slightly softened.
Add stock and bring to the boil. reduce heat to medium and simmer uncovered for 10 minutes. Meanwhile cook the pasta according t packet directions.
Stir green shallots and thyme into sauce or until the shallots are tender. Remove from heat and stir in sour cream.
Drain pasta and return to saucepan. Add mushroom sauce and toss gently until well combined.