Fettuccine With Goat Cheese and Peppers
lazyme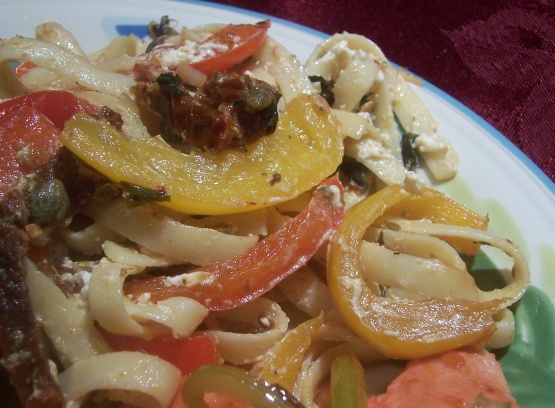 Here's a simple pasta dish that is very colorful. The original recipe did not include the fettuccine, so I'm guessing at the amount and the cooking time for the pasta is not reflected in the times. I have also made this with oil-packed sun-dried tomatoes, and used a little of the oil for sauteeing the scallions and garlic, which to me, adds a little more flavor.
Cut the bell pepper into thin slices and set aside.
Pit and coarsely chop olives and set aside.
Place tomatoes in shallow pan and cover with boiling water for 2 minutes. Drain, reserving 1/4 cup of the liquid. Thinly slice tomatoes and set aside.
Heat oil in a large nonstick skillet; add scallions and garlic. Stir frequently while cooking for 2 minutes. Add peppers, and cook for 3 minutes or until just tender.
Add chicken broth and cook until most of the liquid has evaporated. Reduce heat, then add tomatoes and the reserved liquid, basil, olives, capers and oregano. Simmer for 5 minutes.
Put fettuccine in a large serving bowl; add goat cheese and toss until melted. Add pepper mixture and toss until mixed well.