Fettuccine With Garlic, Parsley, and Parmesan
diner524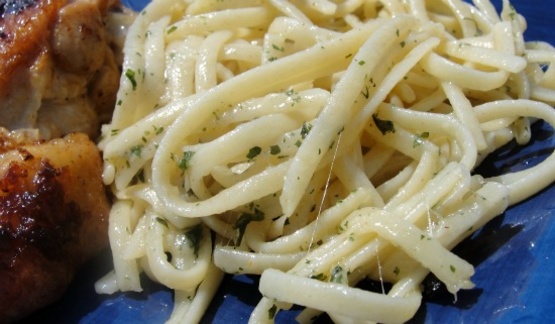 This is out of my "Whole foods market cookbook" For extra flavor and protein, try adding grilled or sauteed shrimp or bite-size pieces of grilled or sauteed chicken breast, tofu, or small chunks of smoked mozzarella to the final pasta toss. Based on 2Bleu's review I have made a few changes.
Well I really have to disagree with the first reviewer!!! To me, they made a major change by using/adding minced garlic rather than the whole clove, which I am sure the garlic totally overwhelmed the dish. I made this, after reading their review. I actually followed the recipe, but for 1/4 of the recipe. I could hardly taste the garlic, I could smell it more so then taste it. When I put 1/4 of the recipe for the parmesan cheese, it was almost not there at all, so I tripled the original amount(3 tbsp rather then one for 1/4 of the recipe). I really enjoyed it with recipe#455471 for a wonderful lunch. Thanks for sharing the recipe. Made for PRMR Tag Game.
Bring a large pot of salted water to a boil.
Add the fettuccine, and cook until the pasta is al dente, 6 to 8 minutes.
When the pasta is cooked, rinse it in cold water, drain well, and reserve.
While the pasta is cooking, heat the olive oil over medium heat in a large nonstick saute pan.
Add the garlic cloves and saute them very gently, turning often for 4 minutes, until light golden brown and softened.
Remove the garlic cloves from the pan, and reserve.
Add the drained pasta to the pan, and saute over medium heat for 2 minutes, until warmed through.
Add the browned garlic cloves, Parmesan cheese, parsley, lemon pepper, and seasoning salt, and toss the pasta well to combine.