Fettuccine With Creamy Tomato and Sausage Sauce
Prep 15 mins
Cook 10 mins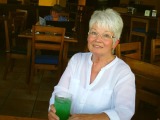 From Epicurious.com A Salad, some crusty bread and wine are all that's needed with this hearty pasta dish.
Directions
Heat oil in heavy large pot over medium-high heat. Add shallots and garlic and sauté until beginning to soften, about 3 minutes. Add sausages and sauté until no longer pink, breaking up with back of fork, about 5 minutes. Add cream; simmer 5 minutes. Add tomatoes with juices, sage and crushed red pepper. Simmer until sauce thickens, stirring occasionally, about 15 minutes.
Meanwhile, cook pasta in large pot of boiling salted water until just tender but still firm to bite. Drain pasta, reserving 1/2 cup cooking liquid.
Return pasta to same pot; add sauce. Toss over medium heat until sauce coats pasta, adding reserved cooking liquid by 1/4 cupfuls if mixture is dry. Season with salt and pepper. Transfer to bowl; sprinkle with cheese and serve.
Most Helpful
Very good and quick. I will make this again. However, I reduced the amount of pasta to a little over 1/2 pound. I only had chicken sausage and evaporated milk but the result was still delicious.
A very good, quick recipe. I used evaporated milk since I didn't have cream, and it was still delicious. Thanks for a great recipe.

I found this dish on Epicurious a few years ago and have made it a few times since. It was to me, the perfect blend of flavors, sweetness and spiciness- the sage is delightful too. I haven't had it recently because I've been cutting back on the fat, but you can make this with turley sausage and it is just as good. I don't think fat free half and half would do the trick in place of whipping cream though. And of course, use parmesano reggiano!