Fettuccine With Creamy Ham Sauce
Annacia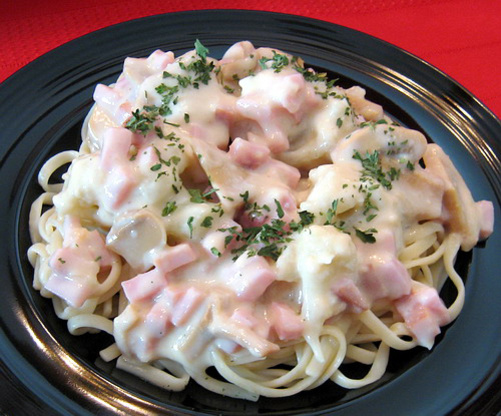 To keep the fat low, but the flavor high, evaporated skim milk is used in the sauce. A little swiss cheese boosts the flavor even more. Found in BH&G New Dieter's cookbook.

This is keeper in my book. It's a true pleasure to have pasta and know that it not only very tasty but well within the "healthy" limits. I chose to use cauliflower as I had it on hand and I used 1 Tbs of parm cheese. The sauce is made in the time it takes for the pasta to cook and is very simple to put together.
Cook fettuccine according to package directions, omitting oil or salt. Drain.
Meanwhile, in a medium covered saucepan cook broccoli or cauliflower and mushrooms ina small amount of boiling water for 7 to 8 minutes or until vegetables are tender. Drain.
In the same saucepan stir together evaporated skim milk, cornstarch, dry mustard, salt and pepper.
Cook and stir over medium heat until thickened and bubbly.
Add cheese; heat and stir until melted.
Stir in ham and cooked vegetables; heat through.
Pour over hot pasta.