Fettuccine With Brie and Bacon Sauce
Pamela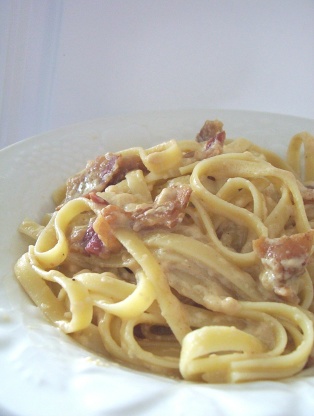 I know, the title of this alone makes you think "heart attack on a plate." What a way to go! It is artery clogging, but once in a blue moon it's nice to indulge a bit! The sauce is utterly rich and lucious thanks to the melted Brie!

Just the sort of dish that pleases a cheese addicted person like myself, add the bacon and you can't go wrong! Love these flavors and in my opinion it is not as rich as a Carbonara Pasta. The second time I made it I added a small onion, garlic, more broth and also fresh chopped parsley. Thanks Mark for a quick and tasty pasta dish.
Cook bacon in heavy large skillet over medium heat until fat is rendered and bacon begins to brown, about 6 minutes.
Using slotted spoon, transfer bacon to plate.
Discard fat from skillet.
Add half and half and chicken broth to same skillet and bring to boil over medium heat.
Gradually add Parmesan and stir until cheese melts.
Add pepper and bacon.
Reduce heat to low and gradually add Brie, stirring until cheese melts.
Meanwhile, cook fettuccine in large pot of boiling salted water until just tender but still firm to bite.
Drain well.
Add fettuccine to sauce in skillet.
Toss until coated with sauce.
Divide fettuccine among plates and serve.