Fettuccine With Basil, Turkey and Walnuts
Annacia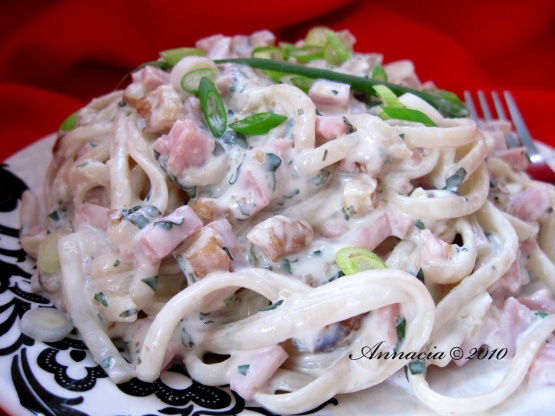 This is a very flavorful and easy-to-prepare dish, great for busy weeknights. It is from a 1990 cookbook called "365 Easy One-Dish Meals".

loof, you have a real winner here. It was the walnuts that grabbed my attention and I really wasn't too sure what to expect from their addition. I loved them! the crunch adds a great texture element and their flavor blends so well with the rest of the savory ingredients. I might be sticking walnuts in everything now!. I really needed to trim back the fat and I did that by using far free liquid coffee with a 1/2 tsp of cornstarch stirred in to that I added 3 or 4 drops of butter extract. I made a single serving (even weighed the pasta) and it was completely satisfying. Another thing I loved was the time it takes to make. It's so quick that you don't need to hesitate to make it on a hot summer evening. Thanks for posting this loof. Made for Photo Tag.
Bring a large pot of water to boil. Add fettuccine and cook 3 minutes or until almost tender. Drain well.
To the pot, add cream, turkey ham, basil, cheese, and red pepper flakes. Cook over medium heat 5 minutes, stirring occasionally, until very hot and well blended.
Add pasta and walnuts and cook, tossing, 1 to 2 minutes until heated through.
Serve immediately.