Fettuccine With Asparagus Pesto
Tee Lee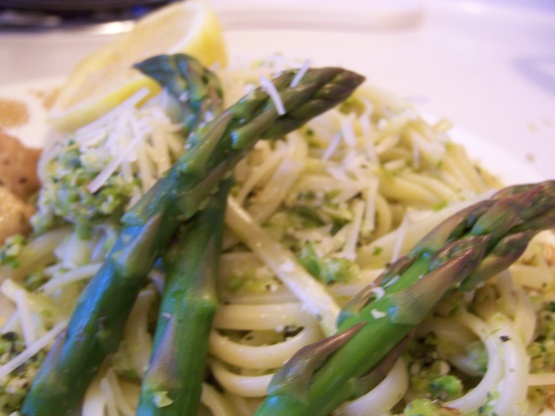 Yum! Basil and cooked asparagus are blended into a tasty pesto, then served over pasta with asparagus tips. Great served with steaks or chicken or even as a meatless main dish. I think almonds, pine nuts or walnuts would be a good addition to the pesto. From "Sunset Magazine."

Top Review by cyaos
I don't know quite what I was expecting but unfortunately this was not it. I followed the recipe as written except I added some extra garlic and it just didn't have the taste or texture I was expecting. Mine came out almost neon green and even though we love aparagus it just didn't seem like a good meld to us with the rest of the ingredients. It is not something I would make again and I can't even think of any improvements. Thanks for posting and it was a fun recipe to try - it just wasn't for us.
Steam or boil asparagus until just barely tender to bite, 4 to 5 minutes, drain.
Cook pasta according to directions on package.
Place the cooked pasta and the tips of the asparagus in a large serving bowl.
Place the asparagus stems in a food processor along with the hot water, lemon juice, olive oil, garlic, and basil.
Whirl until smooth.
Pour asparagus purée over pasta, add salt, pepper, and parmesan cheese.
Mix well to combine.