Fettuccine With Asparagus and Sun-Dried Tomatoes
Bev I Am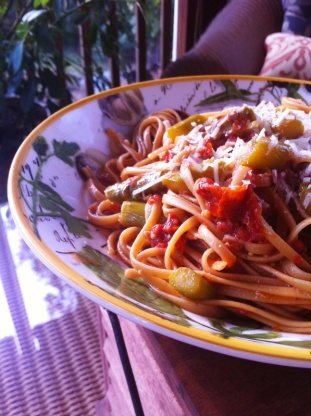 Fettucine teams well with the delicious asparagus. Using a combination green-and-white fettucine give this dish visual appeal as well.

Fabulous pasta! I made with whole wheat fettuccine and fresh basil and made the recipe as directed. The flavor is fresh and makes a very satisfying meal served with a tossed green salad and fresh Italian bread. Thinking of Vicky in memory and enjoying the recipes she has shared with us on Food.com.
Cook the pasta in plenty of rapidly simmering water until al dente, then drain.
Meanwhile, heat the oil in a large saucepan. Add the garlic and sauté over low heat until golden. Add the diced and dried tomatoes, dried basil, and red pepper flakes. Bring to a simmer, then add the asparagus and simmer over medium-low heat, covered, until the asparagus is tender-crisp, about 8 minutes.
Combine the pasta, asparagus, and sauce in a large serving bowl and toss well. Season to taste with salt and pepper. Serve at once, passing around the Parmesan to anyone who wishes to top their pasta with it.
To complete the meal: Make a simple salad with a vinaigrette. Serve with a good store-bought foccacia bread.