Fettuccine With Asparagus and Shrimp
Sageca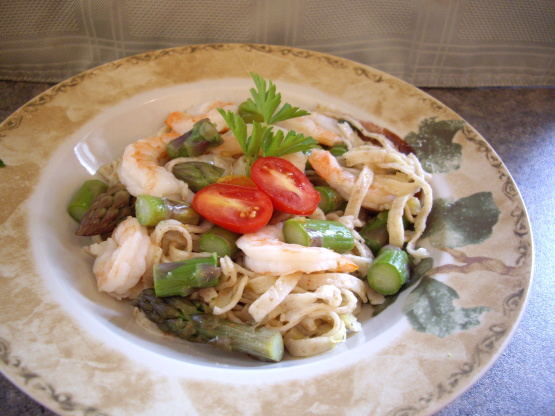 This is a lighter version of a fantastic recipe. Each serving is about 338 calories. I found this in a magazine Quick and simple.

Tried this last night for the family and received great reviews. I only made a couple of small changes. I used a combination of whole wheat and veggie angel hair pasta, added some chopped carrots and because I forgot to pick up lemons I used lemon pepper instead although I think having the lemons would have made this that much better. Excellent recipe and will use often.
Bring a pot of salted water to a boil.
Drop in the asparagus and cook until tender crisp, about 4 minutes. Remove from water with a slotted spoon and plunge into ice water to stop cooking.
Bring water back to a boil and put in the fettuccine and cook until done. Drain but reserve 1/2 cup of cooking liquid.
Warm 1 tbsp olive oil in a large skillet. Add shrimp and garlic, season with salt and pepper and saute for 1 minute.
Add asparagus cook until shrimp are opaque and asparagus is warmed, 2 more minutes.
Return pasta to pot and toss with half the Parmesan, half the parsley and lemon zest the remaining 2 tbsp of oil and the reserved cooking liquid.
Season with salt and pepper.
Divide pasta among bowls, top with shrimp and asparagus and sprinkle the remaining cheese and parsley.
Enjoy with some French bread.